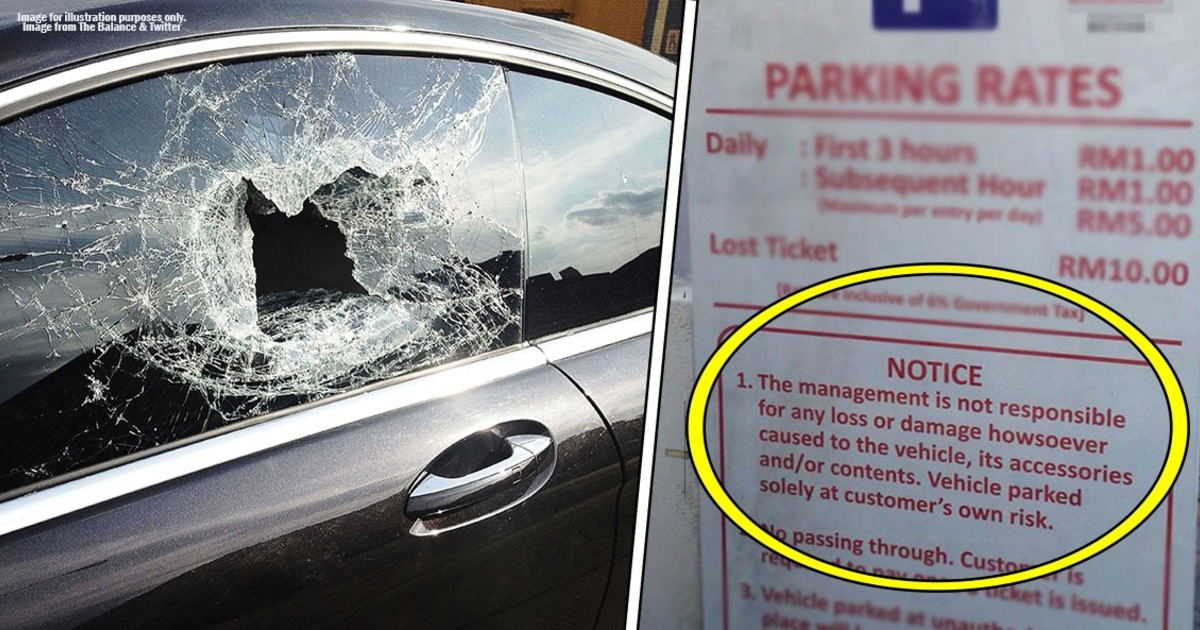 General
In Malaysia, can you sue the carpark management if your car is broken into?
over 2 years ago
Matdura S.
This article is for general informational purposes only and is not meant to be used or construed as legal advice in any manner whatsoever. All articles have been scrutinized by a practicing lawyer to ensure accuracy.
---
Imagine this: You head to the nearest shopping mall to do some quick grocery shopping. You finally find a parking space far across the mall's entrance and park there immediately. 
Half an hour later, you're back at the carpark walking towards where you parked your car and you realise—the passenger seat window has been smashed open. Shocked and angry, you make your way to the mall's management office and tell the staff what happened. But all the staff did is tell you that there is nothing he can do about it while pointing at a sign board that says "PARK AT YOUR OWN RISK".
The question now is, can carpark managements tell you they're not responsible if something happens to your car? But first, let's look into the legalities carpark managements rely on.
Carpark managements can exclude themselves from responsibility
If you frequently go to the mall (or you did before COVID-19 came about) you may be familiar with seeing signs such as "PARK AT YOUR OWN RISK" or "THE MANAGEMENT IS NOT RESPONSIBLE FOR ANY LOSS OR DAMAGE TO VEHICLE".
These words that you will see in some carparks are known as exclusion clauses. In this context the management will not be liable for any loss or damage caused in parking lots when you park your car or other vehicles. Exclusion clauses don't just appear in sign boards at carparks, but it can also be found in receipts or tokens and even notices passed to people. Basically, the carpark management must ensure that its exclusion clause is easily seen by people and the clause itself isn't hard to understand. 
In Malaysian Newsprint Industries Sdn Bhd v Perdana Cigna Insurance Bhd & Ors [2008], the courts stated that an exclusion clause will be meaningless if it isn't effectively communicated to the people. Exclusion clauses must be clearly seen and it must be easily understood by people. 
We previously wrote about what happens when a car is stolen from valet parkings. The law is somewhat similar in this situation too, and here's what the lawyer said for that scenario:
"How much responsibility can be avoided depends on the extent of the exclusion clause. These are interpreted strictly and a 'contra-profarentum' rule applies—any ambiguity in the clause will be interpreted against the business trying to exclude responsibility." - A corporate lawyer, in interview with ASKLEGAL
The 'contra-profarentum' rule, which is a contract law rule says that any clause which is unclear or ambiguous can be interpreted against the party (the carpark management) that created the rule.
This pretty much protects customers from companies trying to exclude liability for way too many things, such as floods or their own carelessness, and the law will hold the company liable for anything it doesn't cover.
For instance, some car parks might put up a sign that says, "The management will not be responsible for damage to your car". They didn't state whether the management will be responsible for other damaged vehicles. The rules are considered rather vague in that sense. So using the 'contra-profarentum' rule, the management would be held responsible in these situations.
[READ MORE: In M'sia, can you sue someone for breaking a contract if your name isn't mentioned in it?]
So can you sue them or...?
In this scenario, it can be a little tricky to claim from the management. Unless the damage was caused by the carpark management, in that case they are liable for it. However, if this was done by someone else and the carpark management has already put up signs and notices staying they're not responsible for theft or damage to your car—there is not much you can do to the management about it. 
While we can't do much in the unlikely event of getting robbed, we can control a lot of the risks by taking simple precautions. When you're parking your car, take precautions like making sure you bring along your valuables, lock your doors, and park your car in a safe location which isn't too dodgy or hidden. 
---