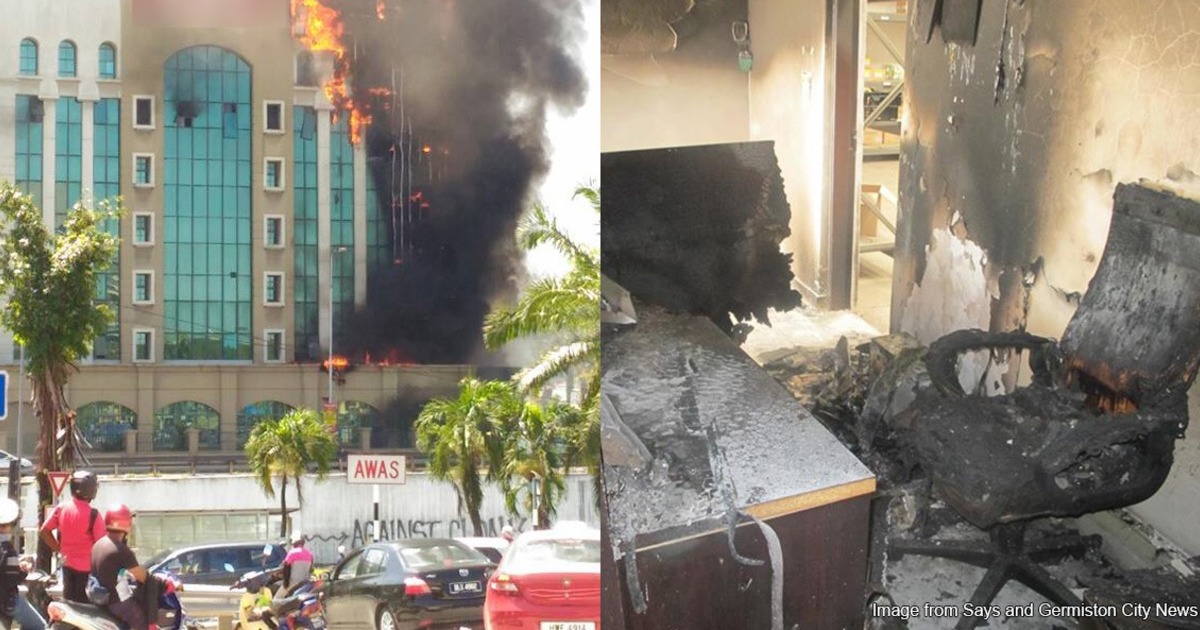 General,Sponsored
5 things Malaysian offices forget to protect themselves from...until it's too late
almost 3 years ago
Mikaela A
This article is for general informational purposes only and is not meant to be used or construed as legal advice in any manner whatsoever. All articles have been scrutinized by a practicing lawyer to ensure accuracy.
---
When you think of how companies need to protect employees, the first thing that might cross your mind is companies providing medical benefits, annual leave, overtime and so on. While that is true, those aren't actually the only ways companies can take care of employees. In fact, besides those benefits, another very important thing employees need is a safe and secure working environment. 
Because when we had a chat with our friends (read: sponsor) at Allianz about their Smart Retail Shield, we had to rethink what insurance is for. In terms of company insurance, people tend to think it just means a health plan. But there's usually one forgotten employee, who is the hardest working, longest lasting, permanent employee: the office itself.
But not getting an insurance plan isn't the only way your office can be left unprotected. As we'll see in this article, here are some ways employers tend to forget when protecting their star employee, and what you can do about it.
1. Protecting the office from fires 
You may not know this, but fires happen a lot more frequently than we think. On average, 6,000 premises are destroyed by fire every year, and 60% of it involves offices, factories and shophouses.
So to minimise the risk of this happening, there are some laws and practices companies must follow. For starters, buildings MUST have a fire certificate. Section 28 of the Fire Services Act 1988 says: 
Every designated premises shall require a fire certificate
'Designated premises' are places that are mainly for public usage—office buildings are an example of this. These fire certificates will prove that the building doesn't have hazards (such as wrongly fitted grilles), or if a fire breaks out, that the risk will be minimal.  These certificates need to be renewed every year and failing to have them is an offence.
If you haven't seen one yet, this is what a fire certificate looks like:
Bomba has the instructions on how to apply for one on their website here. But in general, what you'd have to do is to send an application to your district's bomba headquarters, and include documents such as your floor plans and land title deed. 
You can do the due diligence yourself, but getting a fire certification from bomba might be the most important thing. Because as we found out, a lot of buildings in Malaysia do not have proper fire certification. In 2016, an inquiry into the deadly blaze at Johor's Sultanah Aminah hospital, found that it had been operating without a fire certificate for years. 
Even when you've certified your building is safe, AND with proper fire safeguards in place, it might not be enough. But it's not because of arson or sabotage. According to bomba, in 2016 alone 96% of all reported fires in Malaysia were accidental. 
But besides fires, there are other things that can be completely out of our hands, because...
2. Floods can happen at new places
Besides fires, there's also the possibility of floods happening. Floods are actually the number one natural disaster in Malaysia. In fact, statistics say that 9% of land in Malaysia is prone to floods.
You might remember the 2015 Kelantan floods that affected nearly 160,000 people, with losses worth RM200 million. In the aftermath, 13,337 SMEs were also affected by the flood. 
Even if you think your office is in a relatively safe area, there's a chance you might still be affected by floods. Recently, Kuala Lumpur was hit by one of the worse floods which turned Masjid Jamek into Pulau Jamek. Normally, flash floods can be expected when the rainfall is more than 60mm per hour. And according to DBKL, normally it does not go more than that. However, the rainfall on 10 September was more than 3 times the expected amount, hitting between 100-200mm per hour. 
But some local traders affected by the flood don't think that heavy rainfall is the only cause. A goldsmith who ran his business there for 27 years claimed that the situation got worse within the past 10 years. Some of his heavy equipment was damaged, and he had to send it to Johor to be fixed at a cost of RM7,000 per machine.
"The authorities cannot blame only the heavy rains as this did not happen in the past, " – A. Gunasegaran, as quoted by The Star
Even if you think you're in a safe area, things might not be the same in just 10 years. Unlike fires, you can't get your place 'flood certified'. So the only solution against the unexpected is to minimise losses by insuring your premises. 
3. Office security to prevent theft and burglary
If you work in an office, your office would naturally have safety measures, such as doors with locks, maybe even an alarm system as well as CCTVs. To most people, you might feel that this is enough to prevent thefts and burglaries from happening. However, there's a reason for this saying "A lock only keeps honest people out." If someone really wants to break in, they will find a way.
We found this out the hard way, when our office (jointly shared with Cilisos) was broken into some time ago. We had an alarm system, electronic locks, as well as CCTVs, but the criminals still managed to find a way in. In fact, the criminals were also captured on our CCTVs, but the fact that it was there didn't stop them at all. Thankfully, there wasn't anything valuable in the office at the time, so the only thing we lost was our sense of security (and a broken padlock).
If you were unlucky enough to be robbed but had insurance, you might feel consoled because at least you'll be compensated for your losses. But here's the thing: a company's insurance will only cover the company's assets. This means that in case of a robbery, any employee belongings that was stolen will not be reimbursed. So as best practice, it's best that companies remind their employees to not leave behind any expensive valuables in the office, such as laptops or mobile phones.
4. Providing a hazard-free working place
Having a safe environment isn't just recommended, but it's actually a legal requirement. Under the Occupational Safety and Health Act 1994 (OSHA), certain sectors such as the construction and manufacturing services are expected to have a safety policy in the office. Section 16 says:
 "Except in such cases as may be prescribed, it shall be the duty of every employer and every self-employed person to prepare… and revise a written statement of his general policy with respect to the safety and health at work of his employees and the organization…
While this law may specifically apply to some sectors only, employers of other fields still do have a duty to keep the working environment safe. Under the law of negligence, employers have a duty of care towards employees. So if something unfortunate happens in the office and it's because the employer didn't take sufficient precautions, the employee may be able to sue them for negligence. 
But this goes both ways. Under Section 24 of OSHA, employees are equally responsible in following the safety guidelines. There are a few requirements in this section, but in general an employee is expected to:
take reasonable care of their health and safety at work
to cooperate with their employer in safety matters
to not be naked (wear all your safety and protective equipment)
comply with the safety laws
[READ MORE: Are Malaysian employers responsible for your safety in the workplace?]
It takes two hands to clap. So if you've done your best to be safe but your employer refuses to do so, you can actually file a complaint with the Ministry of Human Resources on their online complaint portal.
5. Not having an insurance plan for the office
So this is another way that companies might sometimes forget to protect the office and its employees. It's common to hear of people having medical or car insurance, but did you know that companies should also insure their business and office premises. For example, we looked at some statistics by Bank Negara Malaysia and found out that up to 84% of SMEs in Malaysia don't have any coverage from natural disasters. While there are laws in place and measures that can be taken, some untoward incidents just can't be avoided. And so the best thing is to have an insurance policy that can cover these risks.
Now it can be a hassle for companies to look for insurance policies for every single thing pertaining to the business. So here's the good news: Allianz now has a plan known as Smart Retail Shield. They offer coverage for a whole lot of things, but these are just some of them:
fire
floods
burglary
machinery/equipment breakdown
group personal compensation for accidents
all business risks
So it's not just for things like floods and fires or safeguarding assets, but basically anything that your business needs for it to be running. So let's say that you have a plush toy business...the last thing that you'd want is for your products to perish in the fire. But if it did happen, you can feel secure knowing that you can get compensated for your losses. 
And in case you need to close your shop temporarily for extensive repairs due to a fire or any of the insured perils, Allianz has you covered too. If you opt in for their Inconvenience Relief Benefit, you can get a daily income of up to RM2,000 per day, for up to 180 days. It's meant to cover reasonably big losses, so to qualify two things need to happen:
The damage or loss is worth more than 15% of the building sum insured
You can't use the premise for more than 3 days due to the accident
The best part is that it's customisable, so you just need to select the types of coverage that you want based on the assets that you want to protect. If you need more information or would like to speak to an agent, you can check out the Smart Retail Shield page.
---