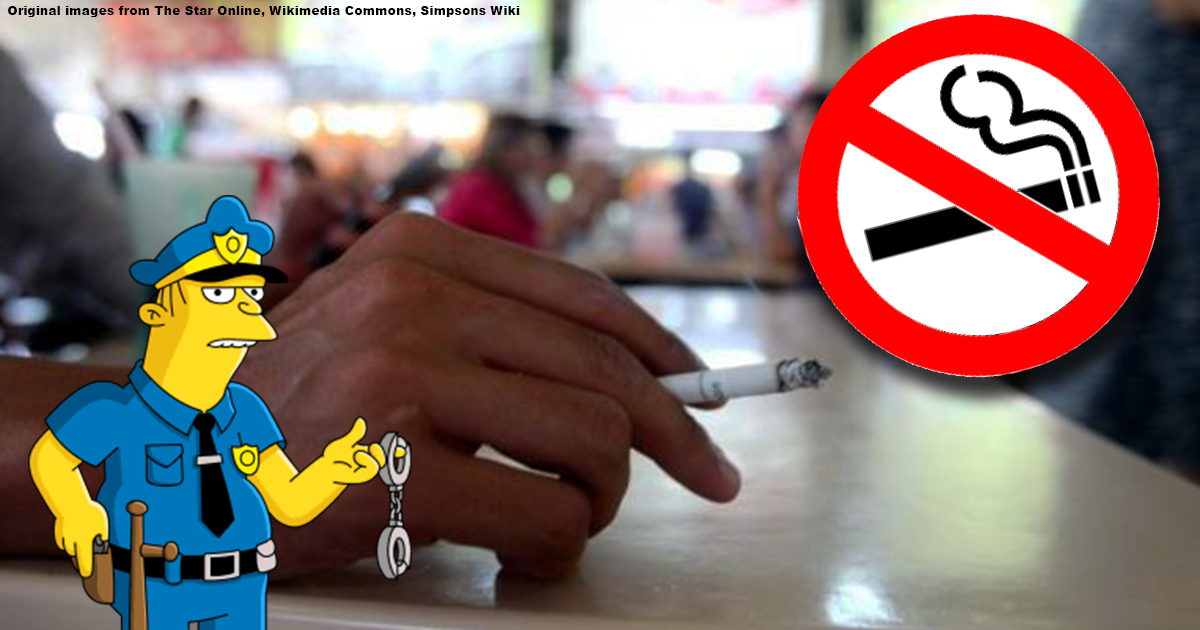 Consumer
5 important things you need to know about Malaysia's new no-smoking law
over 4 years ago
JS Lim
This article is for general informational purposes only and is not meant to be used or construed as legal advice in any manner whatsoever. All articles have been scrutinized by a practicing lawyer to ensure accuracy.
---
(Update: The grace period, originally covering the first six months of 2019, was extended all the way to December 2019. This was termed as a one year educational period for eatery owners and smokers to get used to the smoking ban at restaurants. But come January 2020, the Health Ministry offered no more grace. In the first two days of the decade, over RM170,000 worth of fines were handed out to smokers and eatery owners.)
With the increased taxes on tobacco products coming up in November 2018, as well as a ban on smoking at all eateries coming up in 2019, it looks like Malaysia is following our neighbours like Singapore and Thailand suit in tightening our smoking laws and regulations. It probably was only a matter of time before it happened, so with these new rules coming into place and probably stricter enforcement, you might be asking - How do we know where smoking is prohibited in the first place?
It's actually not that easy to come by our tobacco regulations, as they are actually under the Control of Tobacco Product Regulations 2004, which is a regulation written under our Food Act 1983. You'll only find some of the more recent amendments to the Control Regulations on our Federal Gazette, but thanks to help from our lawyer friends, we managed to get an updated copy (which is unfortunately not publicly available). We'll go through a complete list below for easy future reference (protip: bookmark this article!).
1. There are 23 places where smoking is prohibited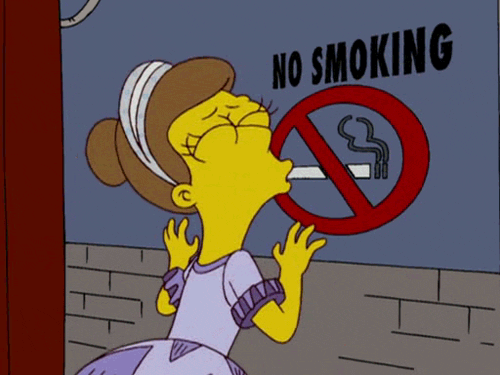 Yes, it's a long list of places - they come under Regulation 11 of the Control of Tobacco Product Regulations 2004. The health minister has clarified that this ban will include vaping and shisha unless they contain no nicotine because our legal definition of "smoking" reads as "inhaling and expelling the smoke or vapour of any tobacco product, and includes the holding of or control over any ignited, heated, or vaporized tobacco product". With that, here's the list of general "no smoking" areas in Malaysia:
Entertainment centres, or theatres (does not include pubs, discotheques, night clubs, or casinos during their operation hours)

Any area of a hospital or clinic

Public lifts and toilets

Eating places or shops

Public vehicles and public transport terminals

Airports

Any area of government premises

Any area of a building used for assemblies (other than private or residential buildings, or in a public place)

Any area of an educational institution or higher educational institution

Any area of a nursery

School buses

Any floor with a service counter in buildings listed in the Second Schedule

Any area of shopping complexes

Any area of petrol stations

Any area in stadiums, sports complexes, fitness centres, or gyms

Any religious building or public place

Any area of a library

Any area of internet cafes

Any area of National Service training grounds

Any air conditioned working spaces with a centralized air conditioned system

Any rest and recreational areas in buildings, playgrounds, or gardens, and the area within 3 meters of that place

Any public parks, except an open public car park

Any observation towers, camp site, canopy bridges, and 5 meters from the entrance/exit of the canopy bridge (national parks and state parks)
The "area" of a place mentioned above also includes the surrounding area of the place within its borders, and also includes a distance of 3 meters from any permanent roof connected to the main building. Offenders can be fined up to RM10,000 or be imprisoned for up to 2 years.
The buildings that fall under the Second Schedule (for item 12 mentioned above) are:
Banks or financial institutions

Telekom Malaysia Berhad

Tenaga Nasional Berhad

Pos Malaysia Berhad
As for private property, the owners may also set conditions for entry like "no photography" or the present example of "no smoking". If visitors do not comply with those conditions, the property owners have the right to force visitors off the property - so it pays to pay attention to whether private establishments have smoking rules of their own.
[READ MORE - Can you legally stop someone from taking photos of you in Malaysia?]
2. The Health Minister can also make custom "no smoking" zones

Regulation 22 of the Control of Tobacco Product Regulations also allow the Health Minister to declare any building, premise, or place accessible by the public (or any part of these places) as a "no smoking" area.
He can place any conditions on these zones as he sees fit, as long as he puts a notification of his decision in the Federal Gazette, the online version of which you can find here. If you're curious how the notifications look like, you can find some of our past declarations of non-smoking areas on the Gazette as well.
3. Smoking will be banned at eateries nationwide starting 1 January 2019
Deputy Health Minister Lee Boon Chye has stated that, come 2019, smoking will be illegal in all air conditioned and non-air conditioned restaurants, coffee shops, open-air hawker centres, and even street stalls. Smokers will have to be at least 10 feet (3 meters) away if they feel like having a puff.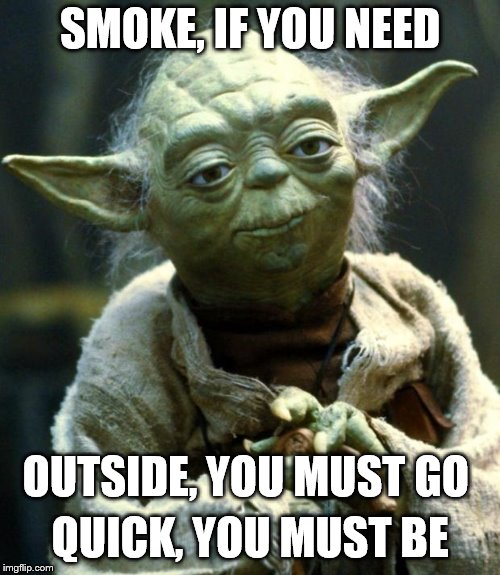 These changes have yet to be gazetted,  which currently means two things - they don't take effect yet, and we don't yet know what the written laws for this look like. We'll update this article when the law comes into force.
The changes were gazetted under the Control of Tobacco Products (Amendment) Regulations 2018. Previously, only air-conditioned eateries were non-smoking areas. Now, the air-conditioned term has been removed, and any eatery is considered a non-smoking area. First time offenders of the smoking law will be fined RM250. 
What you might also want to know is that you can report the premise owners if they don't stop customers from smoking. The owners can be fined up to RM3,000 or be imprisoned for up to 6 months if they fail to put up "No Smoking" signs, and they can also be fined up to RM5,000 or be imprisoned for up to 1 year if they don't take steps to stop people from smoking at their premises.
As for who you can make reports to and how exactly these regulations will be enforced…
4. It's not yet clear how enforcement will take place Offenders will now be fined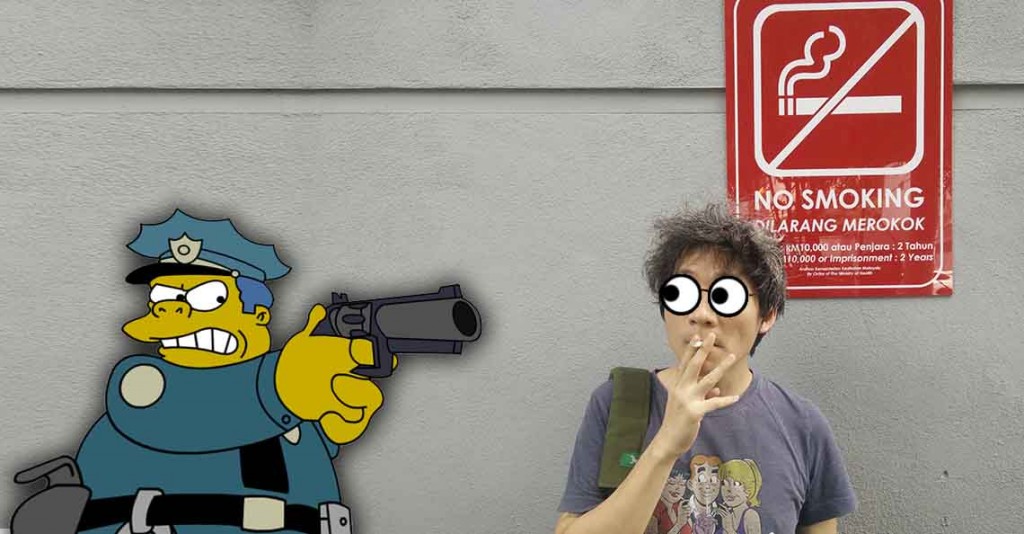 (Update: The no-smoking ban has been fully enforced in 2020. As mentioned in the opening, RM170,000 worth of fines was handed out in just 2 days.)
If you weren't aware before this, we've actually tightened our laws on smoking and added more restricted areas over the years; with public parks and certain areas of national parks last added to the list of no-smoking areas in 2017. However, these regulations were never properly enforced before this, which is probably why most people have never heard of these legal amendments.
We don't yet know how the regulations will be enforced in 2019, but they'll probably involve the people who are currently called "authorized officers" in our Food Act 1983, who are defined as:
"any medical officer of health or any assistant environmental health officer of the Ministry of Health or of any local authority, or any suitably qualified person, appointed by the Minister to be an authorized officer…"
So this would include the officers from the Ministry of Health, as well as officers from your local council. This is also further clarified by the Health Ministry's statement that their existing 5,000 officers will take on the duty of monitoring establishments.
Whether the police will be part of the enforcement is uncertain, but for now, know that you can lodge reports of offenders to the authorities mentioned above.
5. There's a 6 month 12-month grace period 
Unlike the ban, the punishment for smoking in a prohibited place (RM10,000 fine or up to 2 years in jail) won't take effect immediately come January 1st 2019. According to Deputy Health Minister Dr. Lee Boon Chye, the first 6 months after the ban takes effect will serve more as a grace period to educate smokers. (Update: This was extended for another 6 months, until end of December 2020.)
However, this doesn't mean that enforcement officers have no authority to punish you – they totally do. Stubborn smokers can be penalized on the spot if they refuse to cooperate with officers. Although members of the public and businesses can't enforce the rules on their own (other than asking misbehaving smokers to stop), they can make a report to the Health Ministry's hotline at 03-8892 4530.
Tags:
malaysian control of tobacco products regulations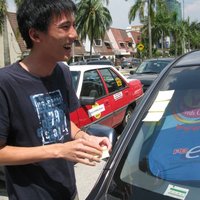 JS Lim
Jie Sheng knows a little bit about a lot, and a lot about a little bit. He swings between making bad puns and looking overly serious at screens. People call him "ginseng" because he's healthy and bitter, not because they can't say his name properly.
---