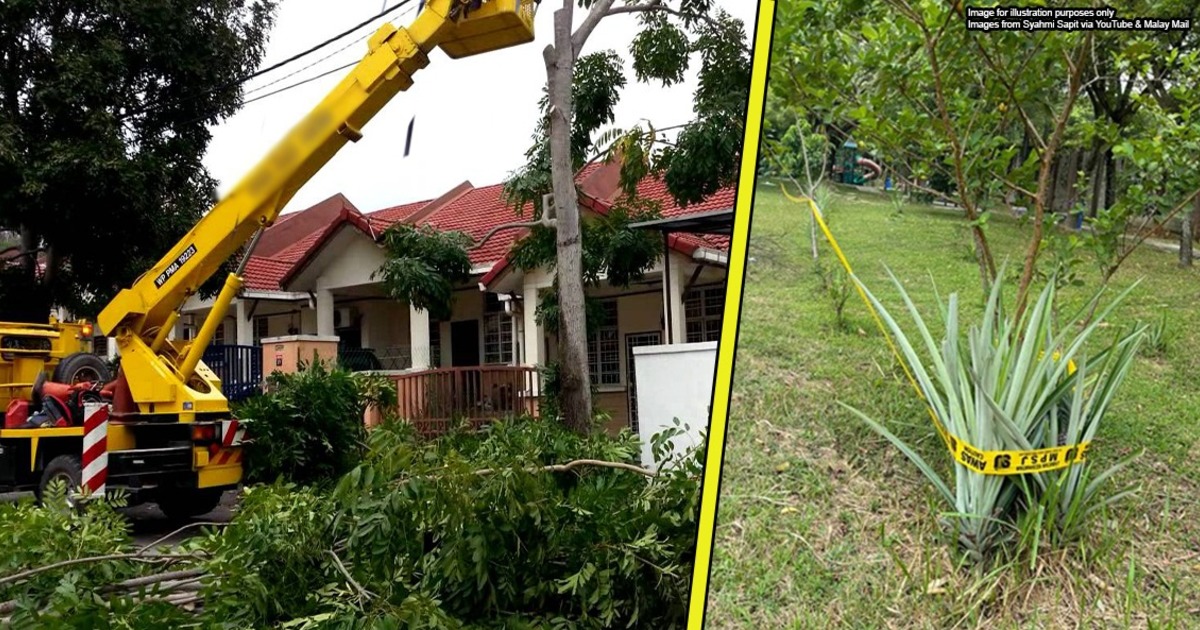 General,Property
Can your Majlis Perbandaran stop you from growing plants outside your home?
almost 2 years ago
Mikaela A
This article is for general informational purposes only and is not meant to be used or construed as legal advice in any manner whatsoever. All articles have been scrutinized by a practicing lawyer to ensure accuracy.
---
This MCO—in all its forms—has seen most of us picking up several hobbies and skills to make better use of our time. Of all the hobbies, one that many (this writer included) have taken up is gardening. If you're one of these people, you might have plants all around your home at this point.
But actually, growing plants everywhere might just get you in trouble with your Majlis. In fact, just last week, you might have heard that...
MBSJ is restricting people from having plants outside their homes 
Malay Mail recently reported that Majlis Bandaraya Subang Jaya (MBSJ) is no longer allowing residents to plant fruit trees and vegetables outside their homes. It's not a complete ban, though. Instead, residents are expected to apply for permission from the Majlis via the Resident Representative Council (MPP) to grow these plants outside their compounds. 
According to this article, there are a few reason they're imposing this rule:
the Majlis already has a landscaping plan and if people were to randomly place their plants, it would spoil the look of the place
if people weren't responsible enough to maintain the plants well, they would be overgrown and be a nuisance
the pots the plants are placed in, if not cleaned, can be a breeding ground for Aedes mosquitoes
some residents take up most of the shared spaces for their plants, leaving little for others
In a separate article by the Malay Mail, it was also said:
MBSJ reminded residents that placing pots and planting crops in back alleys, front yards outside one's home and playgrounds without permission, monitoring and care is an offence.
So, to prevent all of this, the Majlis wants to vet through the type of plants that residents want to plant, and ensure that they're planted in a safe location. However, the Majlis won't be taking in individual applications. If you and your neighbours want to plant something right outside your house, you need to put in an application together. This is usually because compounds outside the house can be shared by two adjoining houses. This also applies to other shared spaces, such as a grassy area facing your row of houses.
Anything outside your house belongs to your Majlis
This may or may not be common knowledge, but actually, only things within your compound are your property. This means that even the road outside your house cannot be considered to be yours, even if it's literally in front of your gate. We've covered this in a previous article, where basically anything outside your gate belongs to your Majlis Perbandaran—and that includes any plants grown there.
[READ MORE: In Malaysia, can you cut your neighbour's tree if it grows into your compound… and steal its fruit?]
So this also means that you cannot cut off or take parts of plants that are growing outside your gate, even if you think that they might be yours to take. And when you pay tax to the Majlis, specifically your cukai taksiran, part of that money is used for landscaping the area. This is why your Majlis owns any plant that they place and maintain outside your gate.
Now, while it is MBSJ that has made the news for banning gardening in shared areas like this, they aren't the only ones who can make these rules.
Your Majlis can set guidelines on gardening
If you didn't already know this, each Majlis Perbandaran would have their own rules. These are called by-laws. Think of them as smaller laws that work together for the bigger laws to work more effectively. Because each Majlis has their own laws, some might allow for plants to be grown outside your compound, and some may not—it really depends on their respective laws.
Instead of banning gardening outside house compounds, they can also set some guidelines on what types of plants are allowed and where they can be placed. We came across one such set of guidelines from a Majlis Perbandaran in Kuching. They even have a fixed list on what kind of palm trees are shrubs can be grown.
It's impossible to list down what each Majlis does and doesn't allow because like we said, it really depends on what they're okay with. So if you're unsure of how things work where you live, pop by the Majlis office and ask them for clarification. And if you're also unsure about what exactly is and isn't part of your compound, take a picture of your house and ask them to confirm your boundary.
What about condos and apartments?
Condos and apartments, as well as other high-rise or gated properties are known as strata properties. Strata properties have management bodies that maintain these places, and via the Strata Management Act 2013, the managements have the right to impose rules for residents to follow. There's no fixed list on the type of rules that they can impose, but it can cover what you can and cannot put in your home—including plants.
In strata properties, there are 'common areas'—areas you share with all residents such as the facilities, and 'parcels'—individual home units. Your management can allow you to only grow plants in your own parcel and not anywhere outside of it. Or for example, if the plant on your balcony was growing into the floor above yours, the management can have you remove it.
Just like your Majlis, the management can also have a set of laws in black and white and if they're broken, the offender can be penalized. And because it's the management who has the power to do this, you usually won't see your Majlis getting involved.
The bottom line is, regardless of where you're staying, there can be limits on where you're allowed to grow your plants. Even if you feel you might be beautifying the place by having them, the authorities have the right to remove them if they're detrimental in the long run. If you're not sure if you can keep your plants, reach out to your Majlis or management. And if there's a permit that you need to apply for, get it done ASAP before you're forced to part with your plant child.
---