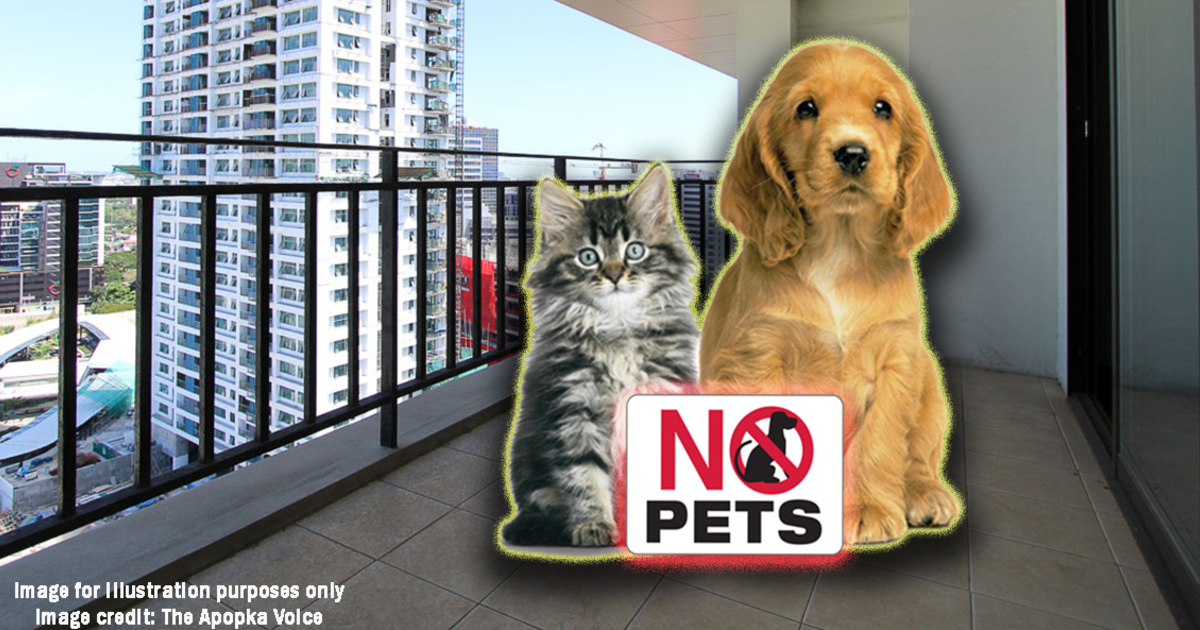 General,Property
Can you legally keep pets in Malaysian apartments?
almost 5 years ago
ZY Ho
This article is for general informational purposes only and is not meant to be used or construed as legal advice in any manner whatsoever. All articles have been scrutinized by a practicing lawyer to ensure accuracy.
---
If you live in flats, condominiums, or apartments, it is quite common that the management rules prohibit you from having pets. They may be concerned about the noise, smell, or other problems that your pet may cause to the neighbors and other residents. But what if you really wanted to have a pet as part of your family? 
We got some questions from our readers who are confused about whether pets are allowed in high-rise buildings. There are news and reports that published few years ago suggesting that you can legally keep pets, but owners claim there are still condo or apartment rules prohibiting them from doing so. This can be confusing because...
The answer depends on which district you are staying
Under the Strata Management Act 2013, the local authority has the power to pass regulations regarding the keeping of pets in strata buildings. For clarification, strata buildings include high-rise buildings (condos, apartments, flats) and Gated and Guarded Communities. 
So, this means that different local councils may have different rules that regulate the keeping of pets in high-rise buildings. We contacted a few local authorities in Klang valley to find out their rules: 
However, not all pets are permitted. So, for example, if you are staying in Kuala Lumpur, the rules only allow you to have certain small dogs- Miniature Pinscher, Bichon Frise, Pekingese, Papillon, Poodle (Toy), Japanese Chin, Maltese, Pomeranian, Chihuahua. If you are not sure whether your pet is allowed, you may need to contact your local council for inquiries.
Even if the local council law allows you to have pets in condo, the process is not as straightforward as you might think. For instance, DBKL told us that you will need a licence for your pet. However, to get that licence, you have to get written approval from your condo management. If your condo management insists that you cannot have pets, you will have to challenge the management rules in the Strata Management Tribunal (SMT).
You can make your own application to the Tribunal here. Upon successful challenge, the tribunal may remove the management rules which prohibit you from having pets. However, it should be noted that not all parties can bring a claim to the tribunal. For example, if you are only renting that property, you might not be able to bring an action. You can get more information in our article here:
[READ MORE: Can the condo management in Malaysia really enter my unit and take my property?] 
There are two more requirements...
Even though you may have permission to keep pets in your unit, just remember that there are responsibilities that come with it. By-law 14, Third Schedule of the Strata Management (Maintenance and Management) Regulations 2015 lists down responsibilities that MUST be followed, otherwise you could still lose your license if the condo management lodges a report against you:
1. You pet must not cause any nuisance or annoyance
It is a nuisance when your pets unreasonably disturbs other people's use and enjoyment of their property. For example, your pet is causing nuisance or annoyance when it:
Consistently makes noise, such as barking
Causes damage to property, like scratches the wall or digs flowerbeds
Causes offensive odour on public areas such as lifts and stairs 
Crawls upon or sleeps on other people's property
Turns over garbage containers
If your pet causes nuisance or annoyance to other residents, you can be asked to remove your pet from the property under by-law 14(2) of the Strata Management Regulations 2015. If you fail to do so, the management can take whatever action to remove your pet from the building. 
2. Your pet
must not cause any risk to the safety or health of other home owners
You must make sure that your pet does not cause harm to any other people. For example, your pet must not carry any disease which can be spread to others.
You also need to make sure that your pet is not aggressive- If your dog attacks, bites, threatens or injures a person without provocation, your dog licence will be revoked and you have to remove it out of your property. You may also get sued if your pet injures other people. 
[READ MORE: 6 common things some Malaysian pet owners do - that are actually illegal!] 
Be a good furparent
Having a licence doesn't mean that you can neglect your responsibility as a pet owner. There are still some basic courtesies that you have to follow, especially when you are living in a high density condo. There are a few basic responsibilities as a pet owner, regardless of where you are staying: 
Always clean up your pet's waste 
Vaccinate your pet
Train your pet 
Keep your pet under proper supervision when having a walk 
---