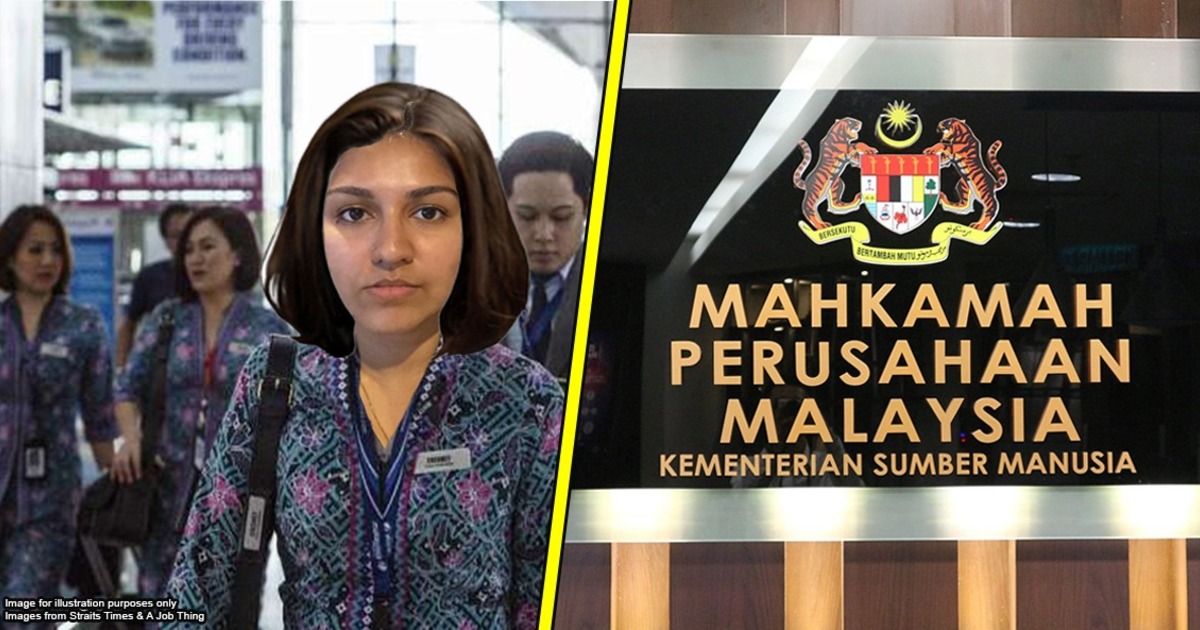 General,Employment
A Msian stewardess was fired for being 'fat' AND the court agreed with the airline
about 3 years ago
Mikaela A
This article is for general informational purposes only and is not meant to be used or construed as legal advice in any manner whatsoever. All articles have been scrutinized by a practicing lawyer to ensure accuracy.
---
Disclaimer: The airline had never referred to the flight supervisor as being 'fat'. She had merely exceeded the weight limit for cabin crew. We used the word 'fat' for a better illustration of the issue in the case.
Whether or not you fly frequently, we all know that air stewards/ stewardesses are admired for having good looks. Apart from making passengers comfortable in a flight and assisting them in an emergency, the cabin crew are also expected to maintain a certain image whenever they're in uniform. 
We wouldn't, however, expect their looks to be taken so seriously to the point where it could get them…fired. But that's exactly what happened to this flight attendant/ supervisor in Malaysia. She wasn't fired for looking unpresentable or anything. But she ended up getting sacked because she was overweight...by 700 grams.
The airline said it was their company policy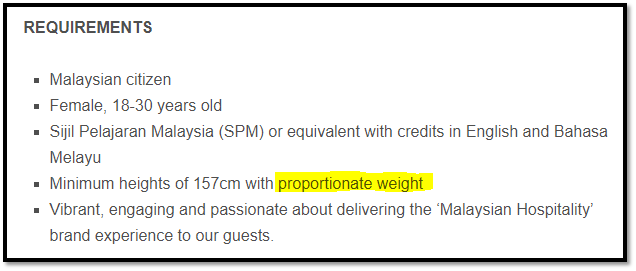 So, the airline didn't just think of some random reason to fire the flight supervisor. It was actually part of the company policy, specifically the grooming manual for cabin crew, that they were supposed to be at an 'optimal weight'. This weight was measured using the Body Mass Index (BMI), where a person's body fat is determined using their weight and height. The flight supervisor was 160cm tall, and so according to her BMI, for her height, she had to weigh nothing more than 61 kgs.
They had weighed her several times, and at her final weigh-in in April 2017, her weight was at 61.7kgs, 700 grams heavier than the allowed weight. Shortly after that, her employment was terminated and the reason given was that she had not maintained her image per the company's policy. Then in September of that year, she took the airline to court, saying that she had been unfairly terminated. She brought her claim using Section 20(1) of the Industrial Relations Act 1967 which states:
Where a workman, irrespective of whether he is a member of a trade union of workmen or otherwise, considers that he has been dismissed without just cause or excuse by his employer, he may make representations in writing to the Director General to be reinstated in his former employment;
So basically, because she felt she had been terminated without a proper or fair reason, she could file a complaint to the Director General of the Industrial Court. And from there, her case could be referred to be heard in the Industrial Court. This section of the law also states that if her case was successful, she could also get her job back.
To most of us, it makes sense for her to take her case to court because…how often do we hear of people getting fired for being slightly overweight?
The court said the airline was right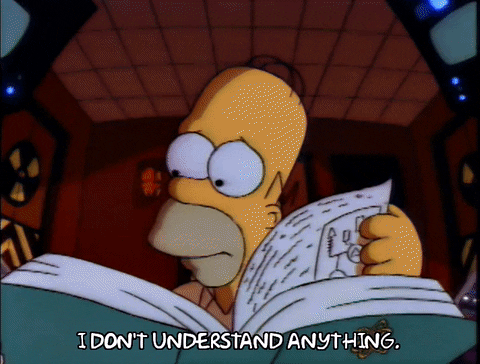 You might have thought that the court would most likely decide the case in her favour. But, the court ended up siding with the airline, stating that the company policy should have been followed. But to further explain their decision, the court gave a few reasons as to why they decided the way they did:
the company's policy was not discriminatory because it applied to everyone, and not just to the flight supervisor alone
the airline had given her "ample opportunities and chances" to get to the optimal weight, but she had failed to do so (basically, she had 18 months—from her first weigh-in since the policy was implemented, to the time she was dismissed—to shed the 700 grams)
she has missed some of the previous scheduled weigh-ins
she had been working with them for 25 years, and these weigh-ins had been done often over time. But she never complained about them, which looked like she had no problem with them
The flight supervisor's lawyers had argued earlier that an extra 700 grams could not affect someone's performance at work. However, the judges said that the airline had already mentioned in a 2015 notice that their cabin crew's appearance was a very important factor of their passengers' flight experience. Again, the judge mentioned that since the flight supervisor did not have an issue with the weigh-ins all this while, it did not seem like this company policy could be seen to be unjust.
So, the flight supervisor lost her case… and her job. But that wasn't all.
She also couldn't get any other jobs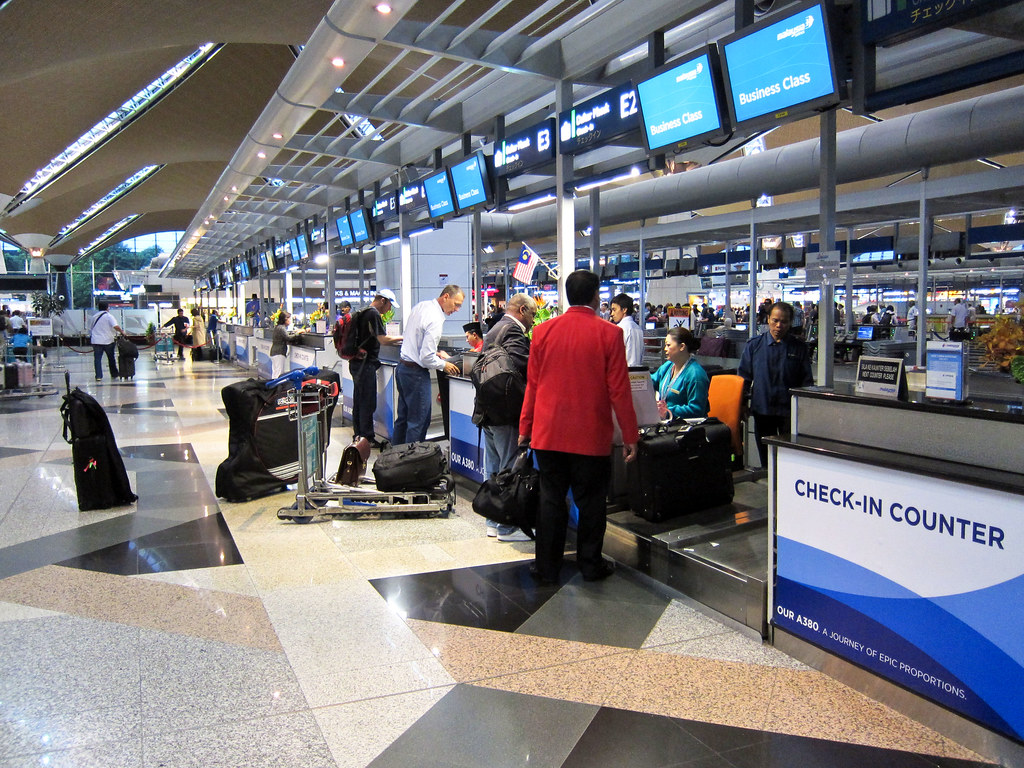 Besides having lost her job with the airline, the flight supervisor also didn't stand a very high chance in securing other job opportunities. According to several news reports, after the airline fired the flight supervisor, she was given the chance to attend an interview in another company for the role of a ground staff. But when the other company found out that she was terminated and was not considered to be 'fit' to lead a cabin crew, she was also denied this new role.
Many who have read this news have been quick to speak up in support of her, and some of them are major organizations. There's an association just for flight attendants, and they're known as The National Union of Flight Attendants Malaysia (NUFAM). Speaking of the airline's decision to fire her, NUFAM said that it was "inhumane". They also added that "justice and basic human rights have died once more". On top of that, the Women's Aid Organization has also said that it was "disappointed" that the flight supervisor had been fired for this reason.
As this case was just reported 5 days ago (at the time of writing), we don't know yet if this flight supervisor is planning to take further action regarding the airline's decision. Under Section 33B of the Industrial Relations Act 1967, the Industrial Court's decision is final (as opposed to other courts). But there are some instances where a you can appeal to the High Court to take another look at the decision. This of course depends on the facts of each case and whether the flight supervisor can appeal this decision (known as a judicial review) will be up to the High Court itself.
---