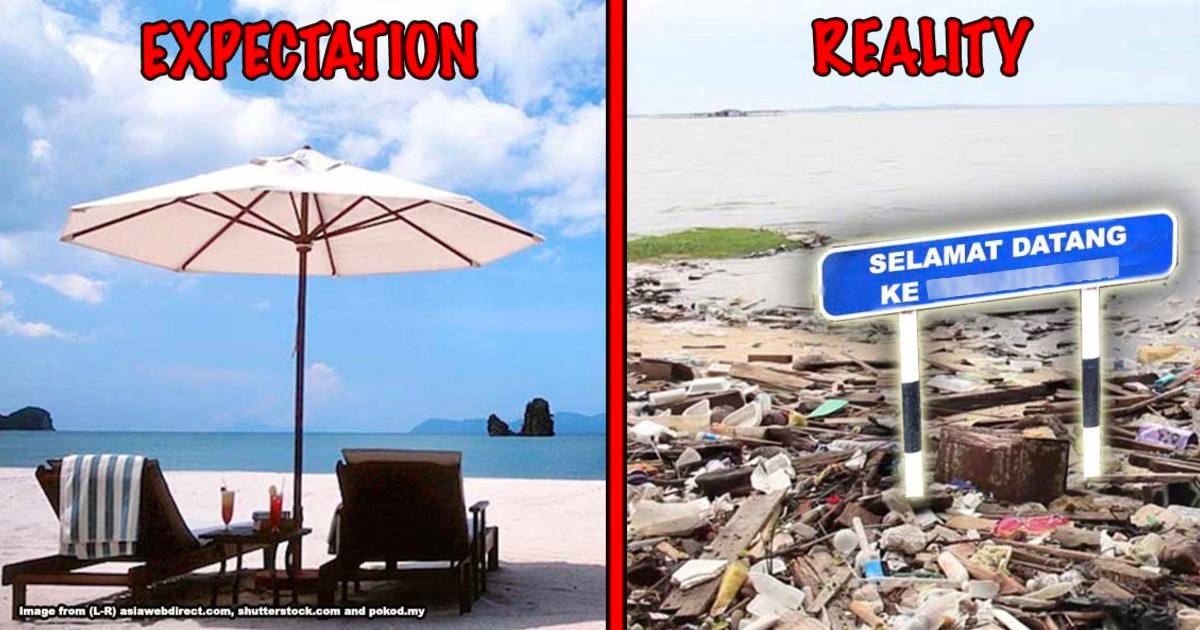 Consumer
In Malaysia, you can sue for a holiday gone wrong thanks to a case from 1969
over 5 years ago
Denise C.
This article is for general informational purposes only and is not meant to be used or construed as legal advice in any manner whatsoever. All articles have been scrutinized by a practicing lawyer to ensure accuracy.
---
[Note: Article was originally written in December 2017]
It's the end of the year. You know what this means (bonus season!). Aside from it being the season of extra pay and lesser jams, it is also the season of holidays. Most of you out there would be busy planning year-end trips with family and friends. 
Maybe you browse online for good holiday spots and packages or maybe you kick it old school and browse brochures. Whatever your poison is, you soon stumble across this amazing holiday package. It sounds amazing – sandy beaches (or craggy mountains, if that is your calling), amazing food and friendly locals. It sounds like a holiday from the heavens and without hesitation, you sign up for it. 
You reach your holiday spot andddddd...well, the hotel was supposed to be 5 stars but you notice leaking walls and mouldy bedsheets. The hostess is rude and doesn't speak your language and the surrounding area is a far cry from the brochure pictures. The word "disappointment" doesn't even begin to cover how you feel.
Boiling mad, you call your agent up and demand for a refund and on top of that, you demand that he pays for your feelings of disappointment, distress, and annoyance. 
Your agent tells you that he will refund you the cost of your holiday but you can hear him biting down a laugh when he says that he will not pay for your hurt feelings because there is no such thing in law.
Actually, he is very much mistaken. You are allowed to sue for your hurt feelings all thanks to Mr. Jarvis' misfortune with the Swan Tours. 
Swan Tours offered Jarvis a magnificent time
Mr. James Walter John Jarvis was your average 35 year old (with a really nice name and not Iron Man's sidekick) solicitor working for the local authorities in the UK. In August of 1969, he decided that he needed some good ole' self-love time and decided to book himself a Christmas holiday and started hunting around for good holiday packages.
He signed up for this holiday after reading a brochure issued by Swan Tours Ltd and was attracted by the description given. The holiday was to take place in Mörlialp, Giswil, Switzerland and the description given to Mr. Jarvis was nothing short of wonderful. Some of the attractions include:
A house party at Hotel Krone with an amazing host that speaks English
A welcome party upon Mr. Jarvis' arrival
Afternoon tea for 7 days
Swiss candlelight dinner
Fondue party
A yodler during the evenings
A farewell party at the house party's bar, Alphütte Bar
Beautiful alpine scenery with good ski runs
Skis for rent
Based off this brochure and being a skiing enthusiast, Mr. Jarvis signed up for a fifteen day skiing holiday complete with a ski pack for the grand sum of £63.45. So, Mr. Jarvis packed his bags and prepped himself for an amazing Christmas and New Year since he was due to fly to Zurich on the 20th of December 1969 and return to Gatwick on the 03rd of January 1970. 
Can you imagine spending Christmas in a place like Mörlialp? If you are chuffed based off the picture, imagine it during Christmas and just think of how excited Mr. Jarvis would be. A skiing enthusiast, a man heading to a house party, a good two weeks off work...it is utter bliss. Alas, his promised holiday was not meant to be because…
But it was a magnificent...let down
Mr. Jarvis faced plenty of disappointment such as the hotel being far from the actual skiing venue. Aside from that, he expected the house party to have about 30 guests but on the first week, it only had 13 people and on the second week...there was no one there but Mr. Jarvis and the host. 
Plus, even though it was stated in the brochure that the host could speak English, in actual fact, he couldn't. So, Mr. Jarvis was stuck in the hotel alone during the second week with no one else who could speak English. Aside from that, the hotel bar was largely unoccupied and was only open once a week. Instead of a proper afternoon tea, he got potato crisps and dry nut cakes. Instead of a proper yodler, he got a man who came over in normal work clothes and sang five songs quickly before leaving. 
The cherry on top of everything was the fact that instead of actual skis, Mr. Jarvis got...mini skis. For reference, mini skis are only about 3 feet (about 92cm) long while an average 6 feet tall person requires at skis at least 170cm long. When he did get proper skis, the boots were rubbed his feet and he couldn't continue skiing. 
We know that this sounds like a load of small things that could be overlooked and the judge in the case acknowledged such a fact but he also said that:
"They appear trivial when they are set down in writing, but I have no doubt they loomed large in Mr. Jarvis's mind, when coupled with the other disappointments." – Lord Denning, Court of Appeal, October 1972
No doubt that in our every day lives, each of things happening on its own would not amount to a great disappointment. It might leave us annoyed and slightly frustrated. However, when you put it in the context of a holiday and the fact that it happened one after the other...you would get really mad. 
So, Mr. Jarvis decided to sue Swan Tours for his bad holiday (title of a next blockbuster flop) for breaches of both implied and express terms of the contract and he also claimed that there was a total failure of consideration (because the holiday was nothing like the statements on the brochure) on Swan Tours' part and because of that, he also lost the benefit of his two weeks holiday. Therefore, Mr. Jarvis actually claimed for the following:
£63.45 for the money he paid for the holiday
£93.25 for his salary during the two weeks
General damages for inconvenience and loss of benefit
The next question is, did the courts give him all that he asked for?
He got a part of what he asked for
At the first round in the Ilford County Court, the judge only awarded Mr. Jarvis £31.72 which is wayyyy less than what he claimed for. This is because the judge decided that the proper way to measure damages was to deduct the cost Mr. Jarvis paid for his holiday from the actual cost of the holiday he received. He also further stated that no other damages would be considered. Since he thought that Mr. Jarvis only received half of paid holiday, he gave him back half in damages.  
Mr. Jarvis then appealed the case to the Court of Appeal and this was what the court said:
"It has often been said that on a breach of contract damages cannot be given for mental distress...I think that those limitations are out of date. In a proper case damages for mental distress can be recovered in contract, just as damages for shock can be recovered in tort. One such case is a contract for a holiday, or any other contract to provide entertainment and enjoyment." – Lord Denning, Court of Appeal, October 1972
Basically what Lord Denning said was that he was aware that damages can never be given for your mental distress caused by a breach of contract. However, he called that law outdated and proceeded to decide that damages for your mental distress can be claimed especially when the contract was meant to provide entertainment and enjoyment.
With all this in consideration, the judges in the Court of Appeal increased the amount of damages up to £125, which was a culmination of all the damages that Mr. Jarvis appealed for deducting what he actually received. To make it easier to understand, this was probably how it went down in formula form:
(Cost paid for the holiday + damages for inconvenience) – cost of holiday actually received = damages
However, it is important to note that there is no set formula to follow because the court just took a broad view in approaching the matter. This was best summed up by what Lord Edmund Davies said:
"The court is entitled, and indeed bound, to contrast the overall quality of the holiday so enticingly promised with that which the defendants in fact provided." – Lord Edmund Davies, Court of Appeal, October 1972
Now, comes the golden query…
Has this law been used in Malaysia?
The answer is...yes.
This is the moment you guys run over to your bikinis and Hawaiian shorts and scream in joy because you know that you can sue if you ever got a bad holiday. Some digging revealed that there are actually several cases where the courts have applied the principle established in Jarvis to allow Malaysians to claim for damages over their bad experiences. For example, in Malaysian Airline System Berhad v Tarn Chin Siong & Ors, the family had specifically booked seats at the front of the plane and paid a premium price for it due their sensitivities to the engine noise. 
The family happily prepared for their holiday and toodled over to the airport on their departure day. When they approached the check-in counter, they were issued tickets for the seats next to the...engine. Wait. What? So, the family tried to explain that they had booked their seats earlier and had even paid extra for it but the staff were unresponsive to their demands. They ended up having to run around the airport trying to solve the problem and had to have dinner on the floor. To add insult to injury, all their hard work was for nothing because their seats were not changed. 
The family then sued and stated that their trip got off to a bad start, their flight was immensely unpleasant and the ill effects of all this spilled over into their holiday and ruined it. Relying on Jarvis v Swan Tours, the judge allowed the family to claim for damages. This is because the airlines' negligence which caused the breach in contract (failure to provide the reserved seats) had caused the family frustration and embarrassment. 
entitled "The failure and/or negligent in not giving their reserved seats is a breach of contract with them and this has resulted in frustration, embarrassment, mental and physical distress, inconvenience and loss of memorable holiday. The damages, therefore, are recoverable." – Mohd Zawawi Salleh JC, Court of Appeal, July 2009
Now that you know this and since it is holiday season, go forth with a happy mind and book the dream holiday you deserve (or get the money back at least). 
---