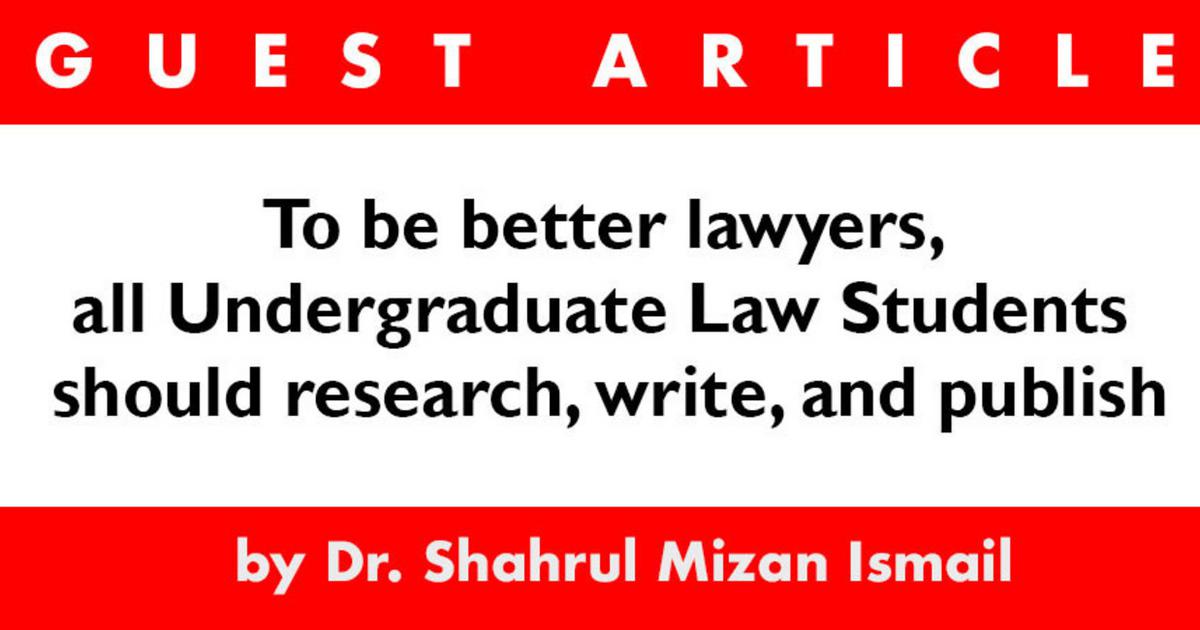 General
To be better lawyers, all Undergraduate Law Students should research, write, and publish
over 4 years ago
Nazura
This article is for general informational purposes only and is not meant to be used or construed as legal advice in any manner whatsoever. All articles have been scrutinized by a practicing lawyer to ensure accuracy.
---
THIS IS THE PERSONAL OPINION OF THE COLUMNIST. The opinions, beliefs and viewpoints expressed by the author do not necessarily reflect ASKLEGAL's position on the issue, nor should it be reflective of the regular content published by ASKLEGAL. We do not make any claims on the legal accuracy of this article as it has not been verified by a practicing lawyer.

by Dr. Shahrul Mizan Ismail | shahrulmizan@ukm.edu.my

Many distinguished law schools in the world usually have an official law journal that represents the school, which publishes articles comprising of research findings and analysis of various legal topics from a wide variety of legal subjects. In addition to this 'flagship' journal, the schools sometimes publish several other more specific law journals, each of which usually will focus on a particular area of the law. Normally, all of these journals will feature articles written by law professors, judges, and other legal professionals, and sometimes shorter pieces written by law students called "notes" or "comments."
For instance, the law journal published by UKM. Click to check it out!

Not many students, especially undergraduate students, would actually be able (or willing) to write a proper research article similar to those that are produced by their lecturers. Indulging oneself in in-depth research, writing academic articles, and publishing is something usually common for postgraduate students.
In many universities, embarking on a research project, incorporating the findings of the said research onto an academic paper, and subsequently publishing them in high impact journals are even made preconditions to a student passing the respective postgraduate course, and ultimately obtaining a Masters or a Phd. Legal research is a very tedious and complicated process, which requires extreme patience and high level of meticulousness. But since postgraduate students are usually 'older and wiser' (having completed a degree/degrees plus years of working experience etc), researching and writing legal articles do come more naturally to them as opposed to the undergraduates.

In many law schools in Malaysia, undergraduate law students are usually involved in research projects merely as research assistants or research volunteers to help out with simple data collection tasks such as compiling & summarizing cases, simplifying excerpts from textbooks or other materials, be it a subject/sample of research activities, or be employed to do various menial administrative works in relation to the research project. In some law schools, undergraduate dissertation or thesis are sometimes made part and parcel of the curriculum, but students are not expected to perform at the same level as those who are at the postgraduate level, and lecturers are often more lenient to them in comparison to the latter.
So, if an undergraduate student is suddenly being made to be pro-actively involved in research activities that go beyond the aforesaid, such a student is actually ahead of his peers, and will in no time possesses 'extraordinary' capabilities. He will be on his way of becoming an undergraduate that is equipped with the sharp and critical mind of a Master or a PhD candidate. Though still a university student, he will demonstrate the research skill of an actual legal practitioner. He will be an asset to his future employer since the latter is saved from having to train him from scratch and forbearingly build his expertise for years to come.
Doing research (as opposed to just being apart of the data collection process) provides the doer with some of the most crucial and valuable skills that employers usually seek in a law graduate. To quote the renowned Lord Denning,
"God forbid that a lawyer knows all the law, but a good lawyer is one who knows where to find the law".
A lawyer may not know all the law there is on a particular issue, in fact it rather impossible to be able to do that, but as long as he knows HOW to find it, then he is an adept attorney.
'Finding' the law here refers to the act of research. Complaints about law graduates not being able to do legal research is very commonplace among employers nowadays. Recent feedback seem to indicate that majority of law graduates are not ready for the industry and lack many these much needed legal and soft skills. In response to this, many law schools have tried incorporating more practical components into its syllabus so that students that are better equipped for the industry. Subjects like 'Legal Methods' (where students are trained on how to do legal research and produce effective legal writing pieces) and Mooting (where students are exposed to critical thinking process and how to answer judges' questions impromptu) are taught as early as first and second year.
Many employers, particularly large law firms, love to hire law graduates who have had the experience of participating actively in legal research and writing projects, especially those who have the experience of being an editorial member to a student-run law journal. Why? Because these students have spent many hours doing precisely the kind of in-depth, meticulous legal research and writing that is required of legal practitioners and law clerks. The opportunity of being involved as a member of the editorial board of a student-run journal will be highly valuable in this regard. It not only exposes the students to the much sought after research and writing skills, but also editing, managing, publishing and marketing the journal! This inculcates not just legal skills but also soft skills such as time management, teamwork, leadership skills, stress management and many more. Other aspects such as the students' language, attitude and aptitude will also greatly improve!
Producing a legal article for the purpose of publication requires egregious drafting and re-drafting hypothesis, critical thinking and re-planning over and over again, and subsequently reconstructing research questions, rigorous reading and carefully finding research gaps, repetitive editing and re-writing the content, and finally, concretely concluding with comprehensive wrap-up and providing strong recommendations for future research. The legal research process is highly organized and structured since it usually aims at untangling complex and complicated issue which will subsequently resolve client's problem or society's crisis. If a researcher does not have an effective research process and merely gather materials at random, a great deal of time will be wasted. Putting undergraduate students into the actual experience of undergoing all of the aforesaid will also increase his maturity, mentality and psychological ability to be more resilient, resistant and up-to-date.
To all law students out there, if you're ever invited or stumbled across the opportunity of becoming a part of your faculty's student-run Law Review, please know that this is a high honor and one that you probably should accept. Give it a go and you will discover a hidden potential in you!
Dr Shahrul Mizan Bin Ismail is an Associate Professor of Law at the Faculty of Law, National University of Malaysia (UKM). He has two main areas of specialization which are International Human Rights Law and Civil Procedure. He is the author to several reference books for Civil Procedure. He was also involved as an expert in the Malaysia's National Human Right Action Plan (NHRAP) and Malaysia's Syariah Index in 2015, both under the Malaysian Prime Minister's Department. He is currently the advisor for Malaysia's Department of National Unity & Integration under the Prime Minister's Department.
---