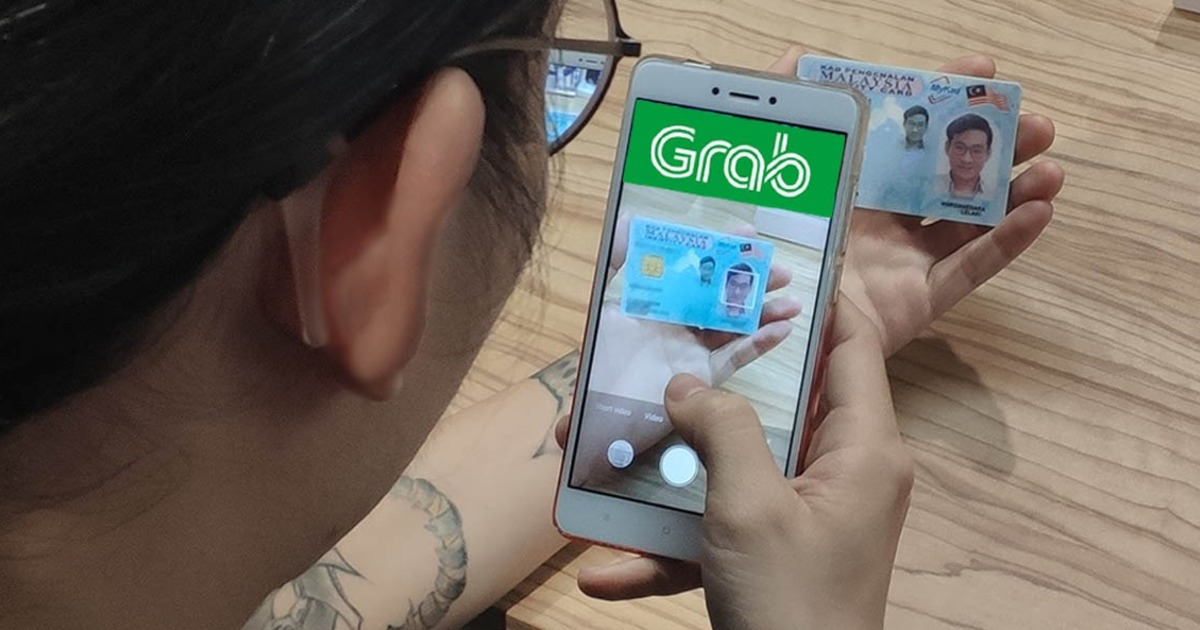 Sponsored
By July, you need to register your MyKad to use Grab (or any e-hailing app)
over 4 years ago
Sponsored Content
This article is for general informational purposes only and is not meant to be used or construed as legal advice in any manner whatsoever. All articles have been scrutinized by a practicing lawyer to ensure accuracy.
---
Over the past 6 years, ride sharing services have changed the way we use public transportation, from hailing taxis to just calling a car up on our phone via a mobile app. But here's the thing, while we might consider a GrabCar or MyCar a form of public transportation, the law doesn't. This is mostly due to how laws define public transport vehicles (ie, busses and taxis), which usually excludes privately owned vehicles.
So, the emergence of ride sharing (also called e-hailing) companies around the world have become a problem for governments who either respond by introducing or enforcing laws that make the service outright illegal, or to change or introduce new laws that make them legal. Malaysia is parked in the second category, where the government has updated the Land Public Transport Act to include definitions and regulations for e-hailing vehicles. 
While these regulations remove any legal ambiguity about ride sharing, it also introduces regulations that require inspections and checks on drivers and their vehicles in order to qualify for a license –  kinda like taxis. But these new regulations don't only cover drivers; passengers also have some new regulations to follow.
You'll need to register by uploading a picture of your MyKad or Passport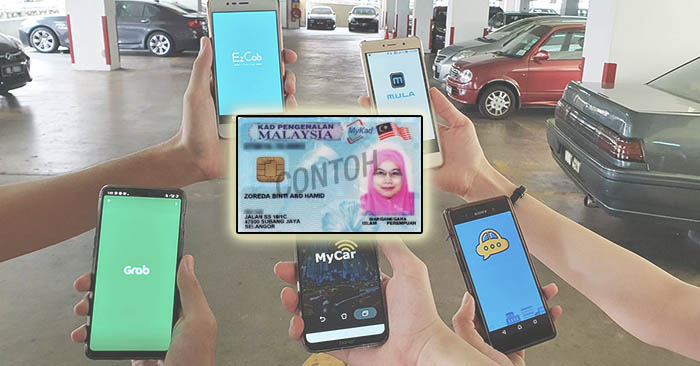 Much of the regulations involving drivers are to ensure the safety of passengers when using ride sharing services. However, Transport Minister Anthony Loke also mentioned that, to ensure the safety of drivers, passengers will also need to verify their identity by uploading a picture of their IC or passport (for foreigners) in order to use a ride sharing app:
"For the safety of e-hailing drivers, passengers are required to upload valid identification card or passport details when they register." – Anthony Loke, as quoted by The New Straits Times
There are two sets of guidelines that regulate the industry, but the one relevant to this article is the Garis Panduan Perkhidmatan E-Hailing di bawah Perniagaan Pengantaraan, with the Land Public Transport Agency (APAD) responsible for enforcing these guidelines.
Section 5.1 lays down the minimum requirements companies must include in their app, which include having a function to register drivers and passengers:
Section 5.1 of the Garis Panduan Perkhidmatan E-Hailing di bawah Perniagaan Pengantaraan (in part):
Setiap pemohon LPP dan pemegang lesen LPP hendaklah mempunyai applikasi e-hailing dengan spesifikasi minima seperti berikut:
(a) fungsi pendaftaran pemandu dan penumpang  [...] 
Section 5.2 then specifies that the details required for registration are full name, a valid copy of your MyKad/passport, and phone number. 
Section 5.2 of the Garis Panduan Perkhidmatan E-Hailing di bawah Perniagaan Pengantaraan (in part):
Bagi fungsi pendaftaran pemandu dan penumpang pada perenggan 5.1(a), maklumat-maklumat berikut hendaklah dipohon:
[...] 
(b) salinan Kad Pengenalan (bagi pemandu dan penumpang yang berwarganegara Malaysia) atau Pasport (bagi penumpang yang bukan warganegara Malaysia) yang sah [...]
But if you're feeling fidgety about putting up your IC online or rolling your eyes at the inconvenience of taking your MyKad out of your wallet, some ride-sharing companies have come up with other alternatives...
Grab gives you the option to upload a selfie instead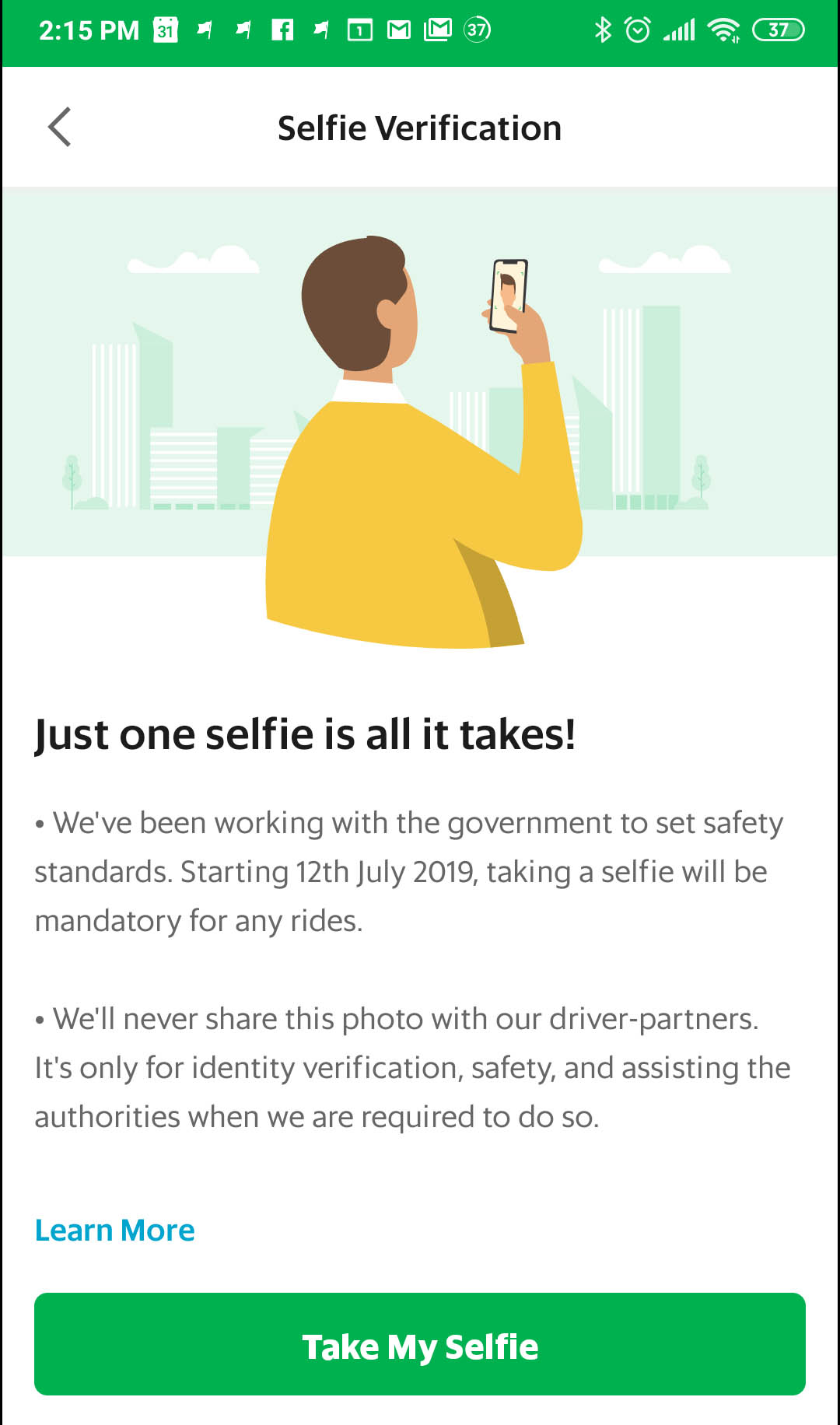 Grab has been working on incorporating facial recognition technology into the passenger verification requirements, which essentially means that you can take a selfie instead of a picture of your MyKad or passport. This is currently being rolled out to Grab customers in stages, so you will receive a notification on your phone soon.  
According to Grab, unless further verification is needed down the line, this will be the only selfie you need to take. You won't need to worry about drivers or merchants (ie, for GrabFood) viewing your selfie as well – it'll only be used to verify your identity and assist the authorities in the event of a crime or emergency – and is separate from your user profile picture.
It's also interesting to note that, in 2018, Grab and Microsoft entered into a 5 year collaboration on technology projects; which include facial recognition with built-in AI. Grab has also provided instructions for taking a selfie, in case you need it.
But whether a selfie or a MyKad photo, your privacy will be protected either way since…
There's already a law that stops companies from sharing your personal info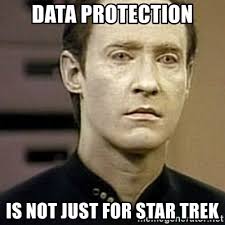 The Personal Data Protection Act (PDPA) is an existing law that prevents companies from collecting or sharing your personal information without your permission, at the cost of a heavy fine and possible jail time. Not just that, it makes it compulsory for companies to take preventive measures to secure your information from being leaked, stolen, or hacked.  
The key part of the PDPA in relation to this article is the Security Principle (Section 9 of the PDPA). It basically binds companies to protect your data from being misused or disclosed without authorization. Not just that, it also requires that the company must guarantee that they provide sufficient security to protect your data from hackers as well as from their own employees. 
Section 9(2) of the Personal Data Protection Act 2010 :
Where processing of personal data is carried out by a data processor on behalf of the data user, the data user shall, for the purpose of protecting the personal data from any loss, misuse, modification, unauthorized or accidental access or disclosure, alteration or destruction, ensure that the data processor—
(a) provides sufficient guarantees in respect of the technical and organizational security measures governing the processing to be carried out; and
(b) takes reasonable steps to ensure compliance with those measures
The PDPA already applies to how ride sharing companies already manage the private information you've previously given them when you registered, so the same protection will be extended to your MyKad/passport/selfie as well. 
Passengers can be assured that their selfie will only be used for one-time verification purposes, and like all personal data on Grab, is securely protected under Malaysia's Personal Data Protection Act (PDPA). – Grab press release, April 11 2019
So, for the most part, uploading a photo of your MyKad is unavoidable regardless of which ride sharing company you decide to go with; but at least there are laws and practices in place to prevent that information from falling into the wrong hands.
---