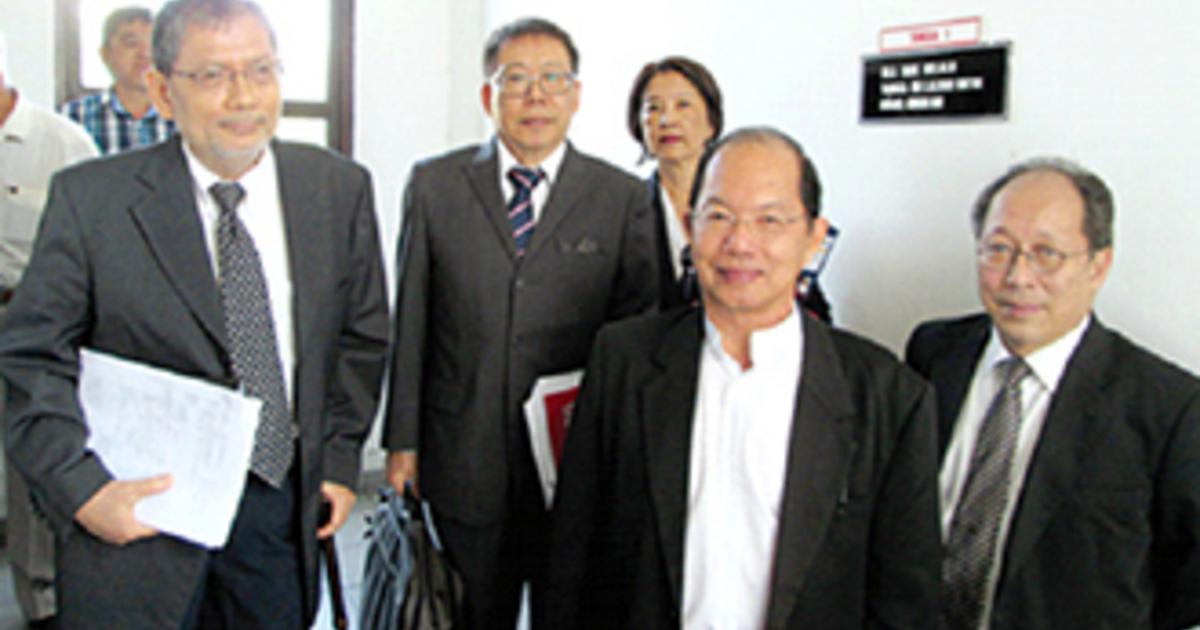 Criminal
NCR activist lawyer faces false documents charges
over 7 years ago
jayeff
This article is for general informational purposes only and is not meant to be used or construed as legal advice in any manner whatsoever. All articles have been scrutinized by a practicing lawyer to ensure accuracy.
---
Joseph Francis

Kong Hong Ming, 62, plans to enter a plea of autrefois acquit and is also involved in a civil suit on the same matter.
SUIT A former Sabah Minister and senior lawyer, well-known for not only taking on NCR (native customary rights) cases but handling them pro bono, has been charged in the Magistrate's Court in Kota Kinabalu on four counts of using false documents in two separate cases involving land matters.
If convicted, each count under section 471 of the Penal Code, punishable under section 465 of the same Code, carries a maximum jail term of two years or fine or both.
Kong Hong Ming, 62, (2nd right) an engineer with the Sabah Government for ten years before he took up law in London and has been practising for 24 years, faces two counts, first and second count, of using a forged Sales & Purchase Agreement dated 31 Oct 2005 involving land under title CL No. 215012847 between a Jeff Leong and a Albert Leong with March Advantage Sdn Bhd.
He pleaded not guilty before Magistrate Stephanie Sherron Abbie and was granted bail of RM8,000 in two sureties.
He also pleaded not guilty before Magistrate Cindy McJuce Balitus on two other counts, third and fourth count, of using a forged Memorandum of Transfer for the same piece of land and involving the same parties. He was granted bail of RM4,000 deposited on each case with two sureties.
The courts granted the prosecution's applications to have all four counts consolidated and transferred to another Magistrate's Court.
The courts set Jan 13 for case management.
Kong allegedly committed the first and second offences at 8.42 am on 9 Feb 2012 at the Land Registry Division Office of the Sabah land and Surveys Department in Kota Kinabalu and the third and fourth offences at 2.12 pm on 24 Mar 2014 at the Registration Division of the High Court of Sabah and Sarawak in Kota Kinabalu.
Counsel James Tsai, acting for Kong together with Raymond Szetu and Colin Lau, informed the Court that his client would enter a plea of autrefois acquit since the prosecutor in the case had said that there was no criminal element in a private complaint made by a party before Magistrate Abbie.
The defence was directed to reserve their arguments for the next mention date after Deputy Public Prosecutor Gan Peng Kun pointed out that autrefois acquit was not applicable as private complaint and a criminal case are two separate matters.
Counsel Szetu informed the Court that the documents in question are the subject matter in an on-going civil suit at the High Court. "The complainant is abusing the process by coming to the Magistrate's Court to pre-empt the decision of the High Court," said Szetu. "The police report alleging forgery was made in 2006. Why prosecute only now?"
DPP Gan replied that the instruction to charge came from Putrajaya based on the investigation by the police and had nothing to do with the on-going civil suit.
Counsel Dominic Ghani is holding a watching brief for the Sabah Law Association (SLA).
Kong is currently with PKR Sabah and was previously with the Liberal Democratic Party (LDP) and a Minister in the Sabah Government before moving to Gerakan after he lost a bid for the party leadership in LDP.
Picture Credit: Daily Express

---