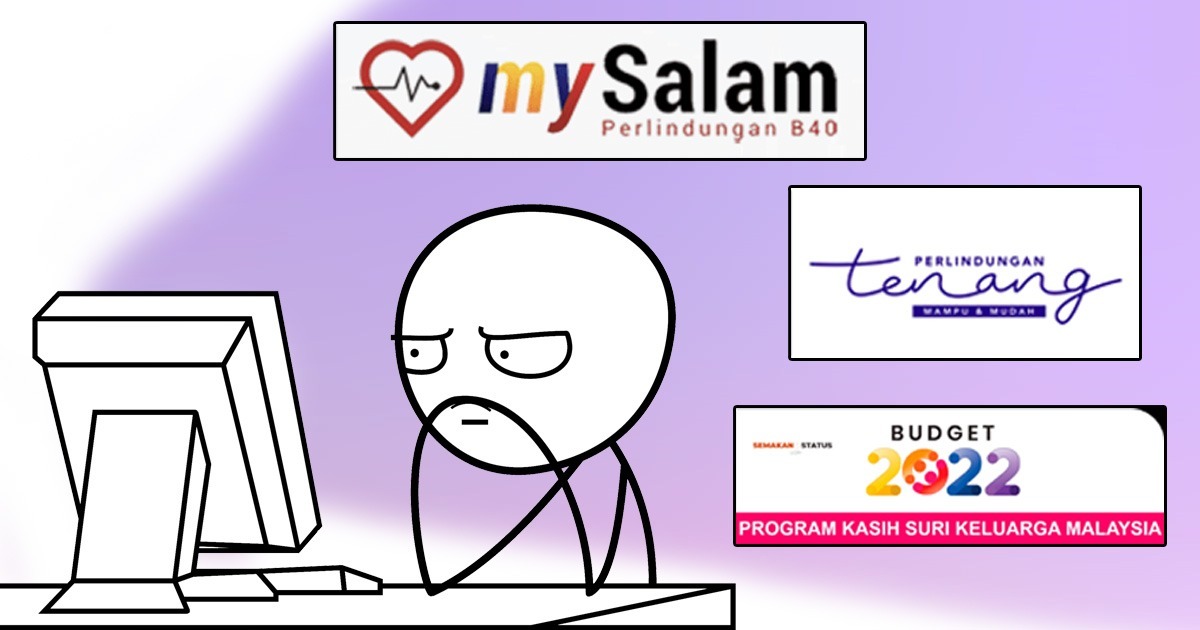 General,Sponsored
Here's what Budget 2022's fancy names actually do
about 2 years ago
Sponsored Content
This article is for general informational purposes only and is not meant to be used or construed as legal advice in any manner whatsoever. All articles have been scrutinized by a practicing lawyer to ensure accuracy.
---
Over the years, the Ministry of Finance (MOF) has rolled out a multitude of initiatives and schemes in their annual budget announcement, and you've probably noticed a trend - while the scheme names may be catchy, they're not exactly self-explanatory.
As an example, while you can tell that "Shop Malaysia Online" has something to do with online shopping, it's not quite obvious what the Kasih Suri Keluarga Malaysia initiative is about... which is why we came up with this quick guide to help you understand what these Budget 2022 initiatives actually offer, and if they're relevant to you.
1. There are A LOT of Keluarga Malaysia initiatives
There's a number of Budget 2022 initiatives with "Keluarga Malaysia" in their names, and despite them sounding like they're more or less the same thing, they offer different benefits. Not sure what we mean by that yet? Don't worry, we're gonna break them down for you.
Bantuan Keluarga Malaysia
What this one boils down to is an improved version of the old Bantuan Prihatin Rakyat. Essentially, it's a cash handout scheme for different groups of rakyat with additional assistance for single parents and senior citizens.
You can get more info and check if you qualify using this LHDN link. If you qualify but don't see your name there, you can apply for it between January 1st  - 31st 2022.
Program Riuh Keluarga Malaysia
Finally, Malaysia's creative arts scene is getting its share of the limelight under this initiative. The government is allocating RM20 million to bring back some semblance of life and artistic expression... and also create more than 5,000 jobs within the industry of course.
PerantiSiswa Keluarga Malaysia
To help them out in their studies, the government and selected telcos will be teaming up to provide students in higher education institutions from B40 families a tablet each.
Application is tentatively planned to start from April to June 2022, so keep an eye out for it.
Yayasan Keluarga Malaysia
According to Finance Minister Tengku Zafrul, about 4,700 children were orphaned after their parents succumbed to the C19 virus. Yayasan Keluarga Malaysia was set up to take care of them and ensure they receive an education.
JaminKerja Keluarga Malaysia
Unemployment has been an ongoing issue that's made worse by the the advent of C19, so Jamin Kerja Keluarga Malaysia is the government's way to generate 600,000 job opportunities in 2022. Under the initiative, the government will cover up to 40% of a new employee's salary if they belong to certain target groups like the jobless, OKU, and single mothers as an incentive for companies to hire them. More detailed info here.
Kasih Suri Keluarga Malaysia
Very simply, this is an initiative that gives housewives and widows the same financial safety net that workers would have through EPF and SOCSO. By contributing a minimum of RM5 a month, you'd be eligible for benefits such as an extra RM480/year into your account, EPF dividends, and financial assistance in case of disability and death.
In other words, it's saying that being a housewife is an actual full-time job. More info and application instructions here.
2. MySalam is actually free government health insurance
MySalam is basically a free insurance scheme which benefits Bantuan Keluarga Malaysia recipients and their children.
How does it work? Once an eligible recipient gets diagnosed with one of the 45 critical illnesses like Alzheimer's, cancer, or kidney failure; they'll receive a one-time RM8,000 cash payout PLUS a RM50 daily hospitalization income replacement up to RM700 per year - but only if they're hospitalized at a government, military or university hospital.
You can check your eligibility through the MySalam website link here. If you were a recipient for the previous Bantuan Prihatin Rakyat and don't have MySalam yet, you can send an email to info@mysalam.com.my or call their hotline at 1-300 888-938.
3. You can get free private insurance with Perlindungan Tenang Voucher
We're guessing it's called Perlindungan Tenang Voucher because it's a voucher that can provide you with peace of mind with private insurance protection for just a few ringgit per month. Previously, the voucher was worth RM50 but this value has been increased to RM75 for 2022.
What can RM75 buy, you ask? Well, multiple insurance providers have different plans and prices under the Perlindungan Tenang initiative - like this one from Allianz - and they cost less than RM50 per year.
Not just that, starting from next year as well, the Perlindungan Tenang Voucher can also be used to buy comprehensive motorcycle insurance for bikes under 150cc. You can check your eligibility on the MyPTV website linked here.
4. MyDIGITAL is a tech upgrade for Malaysia
Instead of one singular initiative, it's probably more accurate to call MyDIGITAL a national roadmap to develop our country's digital economy. We won't bore you with everything we've gleaned from this 104-page PDF on MyDIGITAL; we'll just leave you with some touchpoints:
Improve relevant infrastructure to encourage the adoption of cloud storage across Malaysia

Roll out 5G and make it affordable and accessible to all

Put more stock into cybersecurity in general
MyDIGITAL aside, those between 18-20 years old, along with full-time students at higher education institutions can get RM150 via selected e-wallets under the e-Start scheme. We'll have to wait to know which e-wallets exactly, but we're pretty sure your favorite ones are gonna be there.
5. MySTEP is a pitstop for your next career step
MySTEP is somewhat similar to JaminKerja Keluarga Malaysia in the sense that it's also an initiative to generate job opportunities but, unlike JaminKerja Keluarga Malaysia, MySTEP focuses on short term contract employment and training.
The short term contract jobs are offered by agencies within the public sector, and government-linked corporations (GLC) such as PETRONAS, PNB, EPF, and Khazanah.
It's mainly geared towards fresh grads and those out of a job, and you can check the full list of requirements here.
6. Skim Semarak Niaga gives cheap loans to small businesses
Aimed mainly at micro, small and medium-sized businesses, the Skim Semarak Niaga umbrella offers microcredit loans to entrepreneurs who need a cash injection to reinvigorate their operations.
What sets Skim Semarak Niaga apart from regular bank loans is that the repayment of the micro loans are made easier with interest as low as 0%, a 6 - 12 month moratorium, and easy approval. These loans are offered through agencies like TEKUN, BSN and Agrobank.
What's more interesting, there are also alternative financing methods like equity crowdfunding and peer-to-peer financing.
Why are there so many names, anyway?
Yes, the amount of names can seem a little intimidating, but there's a good reason for that. The list of government assistance initiatives are ever-growing, so they'll need new names whenever a new scheme comes up, or rebrand an existing one. If you think about it, having unique names for the schemes also helps if you need to Google it (how do you think we found all of these?).
For Budget 2022, the MOF asked the public for suggestions, and worked with 80 focus groups, NGOs and associations to gather close to 50,000 ideas - making it the biggest and most comprehensive budget they've come up with. There should be something for everyone, so check out the Manfaat Bajet 2022 site to find out more.
---